Some ladies buy a colored bag for each outfit she own to have a perfect style. Since this method is very expensive and unaffordable for limited or mediate income ladies, we are here today to give you a great trick that will enable you to make your bag as if it was costume made to fit exactly with each outfit color you have. It can also be used to decorate bags. That is of course what we got you use to in STYLORITA website. We aim all the time for teaching all our website users full fashion tricks and continuously renewing their styles through articles teaching tricks for clothing and also through our Clothes Coordination Automatically tool available HERE.
The trick to color your plain bag with the colors of your style– clothing tricks:
Here is the trick. All what you need is just buying a plain bag of mutual-color (white, black, yearn, gray, beige) to be suitable for all of your clothes. And a scarf that matches with the color of your outfit and we will show you more than one way to decorate bags with pictures and make it suitable for your outfit colors in one minute:
Firstly: make a bow tie with a scarf:
– make a bow tie with a scarf in many ways according to the shape of the bag as follows:
If the bag has an external cover, wrap the scarf from the inside and tie its ends in a bow tie shape from the outside like this. Or you can bass it throw the place of the hands to more stability.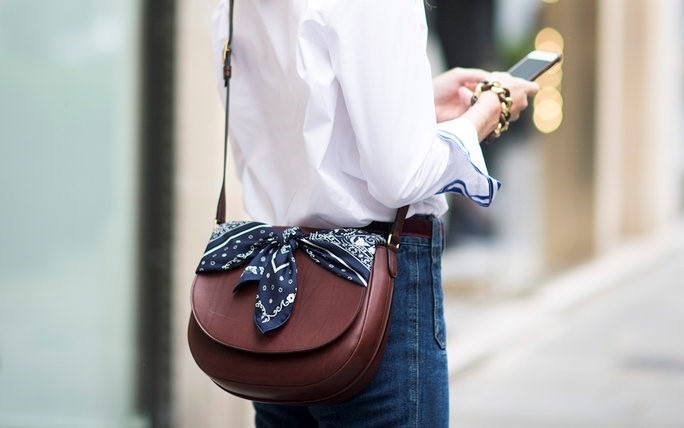 2 .If it had tiny hand grips you can tie the scarf between the hand grib like this:
Or on one of the hand grips like this:
Secondly:

Other creative ways to tie the scarf – decorating bags to suit your outfit's color with pictures:
If the bag has a removable hand grip, you can remove it and place a colorful scarf instead.

decorating bags with pictures 1
If the grip is irremovable you can wrap the scarf around the bag hand grip in a way that fully covers it, and then tie the ends of the scarf as shown in the pictures. To give it a fresh, colorful and fashion look.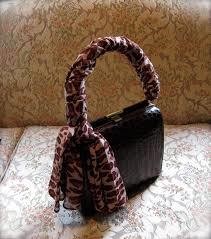 You can also slide the scarf through the grip holes and let the rest of it dangling or tie it in a simple shape
If the bag is small, you can put the scarf on it from the outside to cover a large part of it. Pass it from the grip holes and leave the rest dangling down and if it has an external cover tie the scarf on it.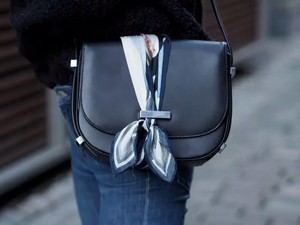 You can also renew the style of your bag be hanging the scarf on it and let it down or tie it by a simple piece of accessory.
Show Me All Style Lessons