By the end of the third month of pregnancy, pregnant women experience many changes in their bodies. That makes some believe that pregnancy would keep her away from being elegant. In the past, pregnant women depended on baggy dresses that were several times larger than their size. Here we say that things don't go the same before. There's no need to sacrifice just because there's a baby on the way! We can help you with how to shop the best outfit for pregnant ladies. With some advises, pregnant women can be very fashionable without having to wear these dresses anymore. In this article, we will explain in details the best styles for pregnant women.

Here some tips for you to keep in mind when you buy outfits for pregnant women:
Cardigans, Jackets and Blazers are very important outfit for pregnant women's style, as they provide them a great look and make the body shape look better; since they hide some of the belly size. And you can use the automatic outfit coordination feature in our site 

here

to perfectly coordinate their colors with your outfits.
Note the difference in the next pictures between the body shape without wearing a Cardigan, Jacket, or Blazer and the body shape in case of wearing one of these outfits. You can clearly notice that these outfits make you look slimmer in a way that would draw attention away.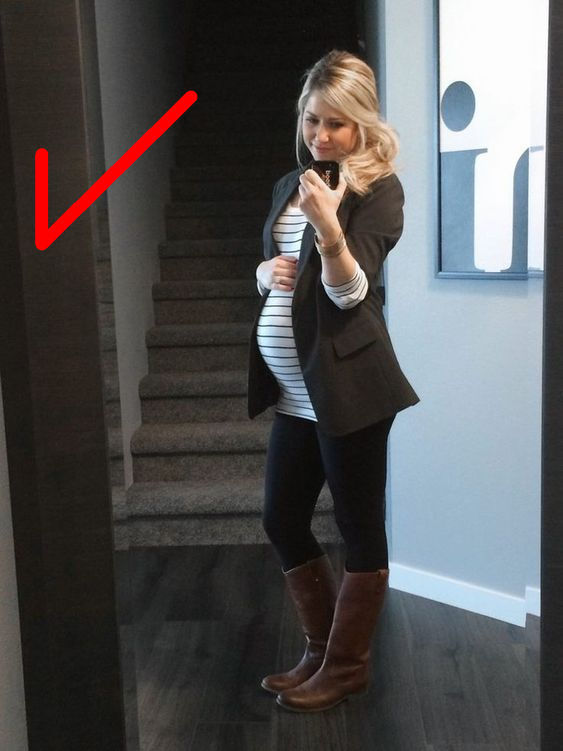 It is preferred for the pregnant women to wear clothes made of stretchy materials, because these pieces have flexible cuts which make them wearable after giving birth, rather than not using them. Also, natural material like cotton, silk and linen gives comfort and makes perfect outfit for pregnant women.
It is recommended to select a suitable bra size which lift the breast and make it looks bigger – if they are small – as big breasts would give the impression that the belly size is smaller. You should change your bra size if they don't fit you during pregnancy.
Pregnant women should avoid wearing loose pants at the waist, or wide-arm blouses; as they would make you look chubbier. As loose outfits would make pregnant women look unattractive and less elegant, even if they hide the belly, they would be inconsistent with other parts of your body. Take a look to the next photo and see for yourself.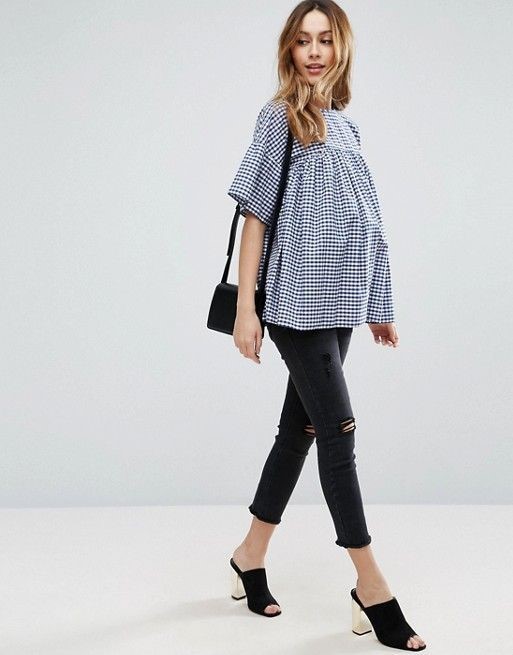 At the same time, try to avoid wearing tight outfits that might increase pressure on the belly.
Pregnant women can wear Leggings provided that picking the suitable pair. For example, skinny pregnant women can wear light colored- Leggings, but darker leggings would suit pregnant women with wide hips.
It is recommended to avoid outfits that may cause skin allergies and sweat, as the pregnant women's body gets more diaphoretic. As the change in her body hormones, makes her feel high temperature all the time.
Outfits ideas for pregnant women – Outfits for veiled and unveiled pregnant women
Firstly: casual and formal outfit ideas for pregnant with pants


Secondly: Dresses styles – outfit ideas for veiled and unveiled pregnant women.
If your weight increases during pregnancy and it was hard for you to wear your old pants, or if you are embarrassed by showing your weight gain in your lower body, the perfect solution for you is to wear dresses that are in fashion for pregnancy. (Don't worry our dear pregnant woman, most of fats and overweight partly or totally would be gone during nursing period).
You can wear pregnancy dresses, whether maxi or short dresses, as they hide your weight and give you a great look.
Dresses can be coordinated with cardigans or jeans jacket and you can complete this look with an elegant hand bag and flat shoes for a simple, stylish, and affordable look.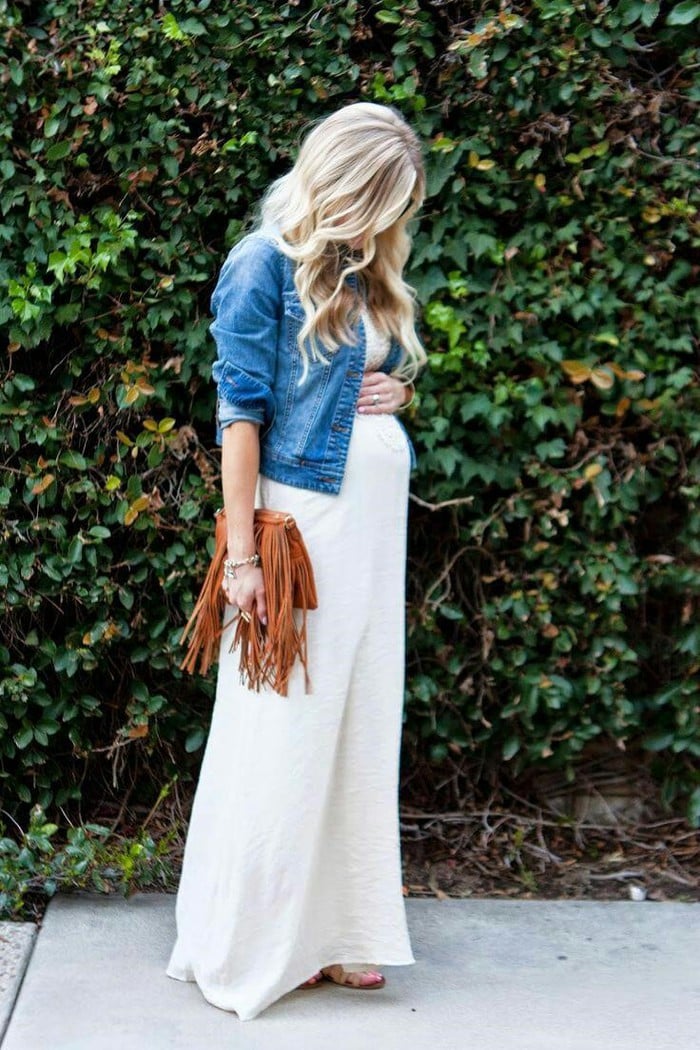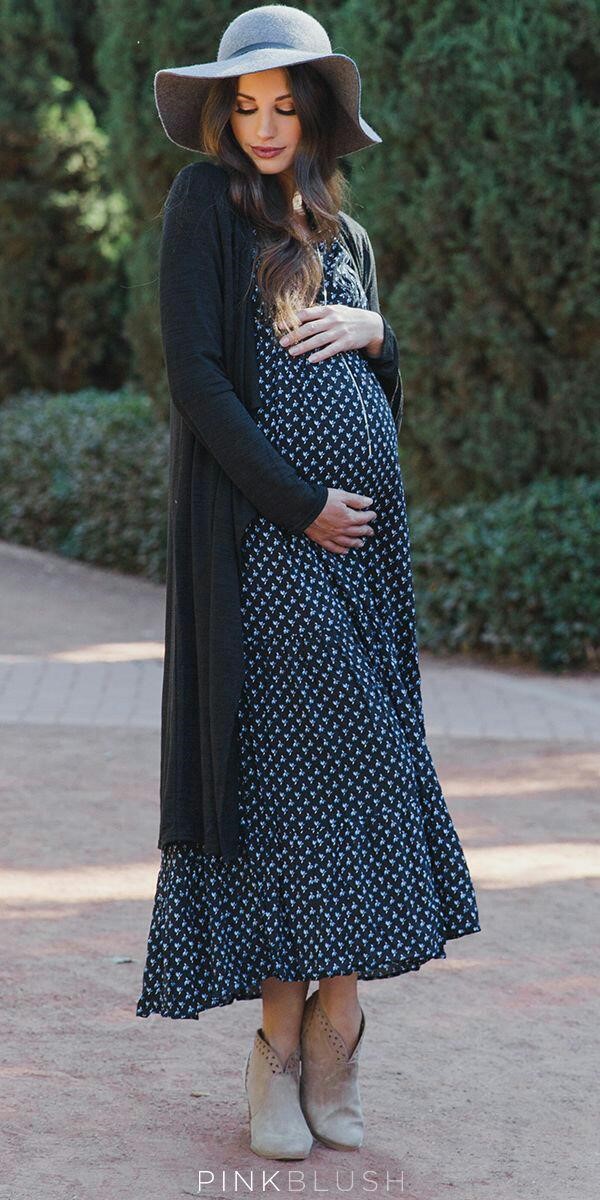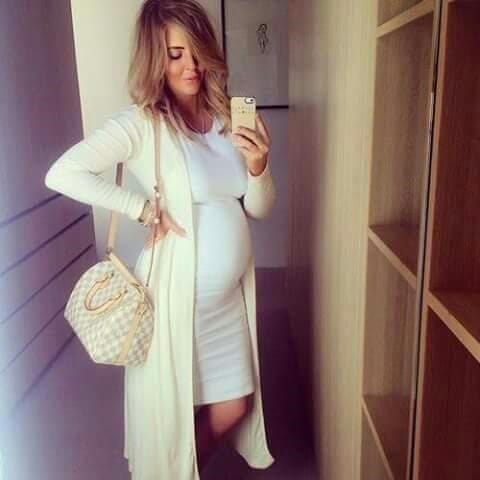 Here are some dresses for veiled pregnant women that add into fashion for pregnancy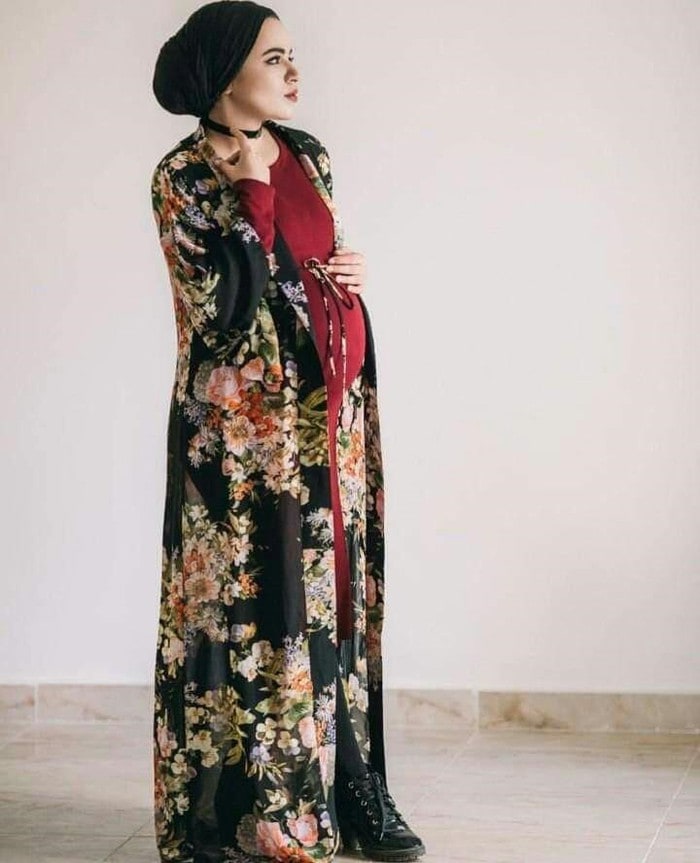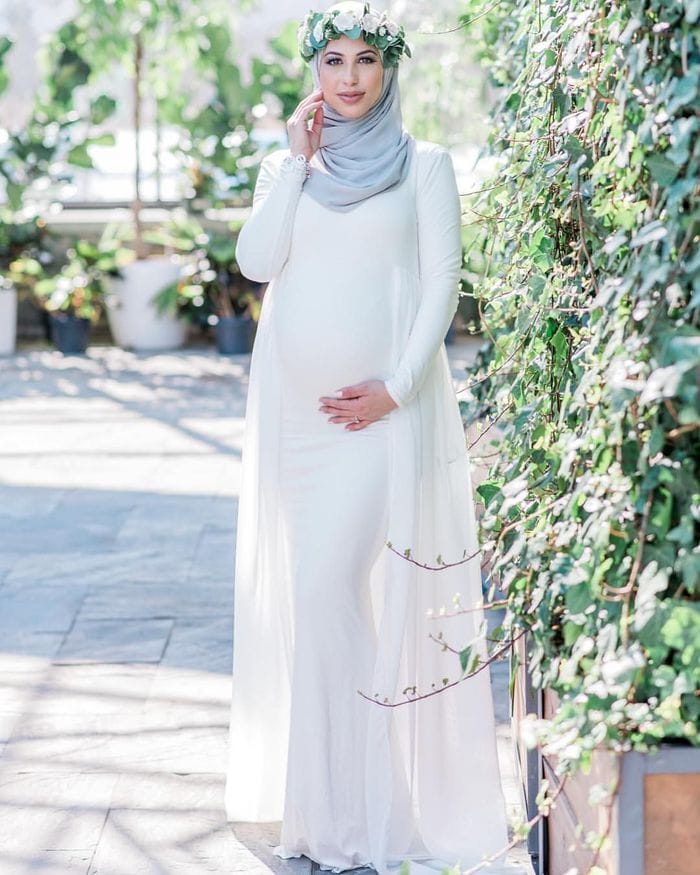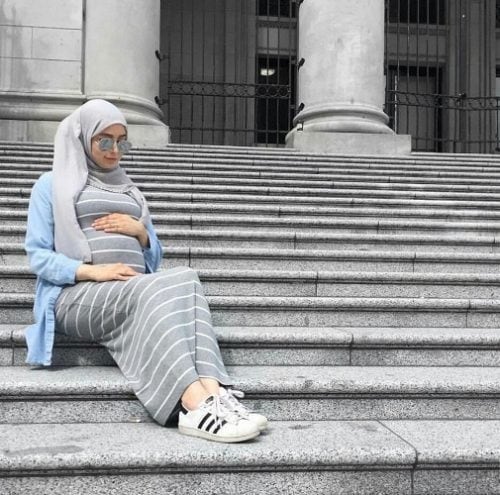 Thirdly: Jumpsuits for pregnant women
After showing dresses for veiled and unveiled pregnant women, here we have another comfort piece which is Jumpsuit that is a perfect choice of fashion for pregnancy. Jumpsuit is considered a fashionable piece in pregnant women clothes, especially among fashion bloggers. Jumpsuits are not only easy to wear, comfort and very practical especially jeans Jumpsuits, but they also provide a casual look. They can also be coordinated with other clothes like cardigans. Make sure to wear a cardigan on top especially if you wear hijab to avoid being conspicuous from behind and to cover your belly as we mentioned earlier in our tips.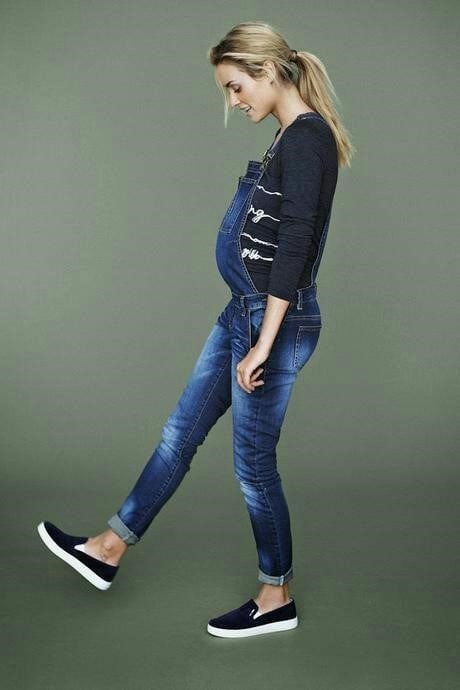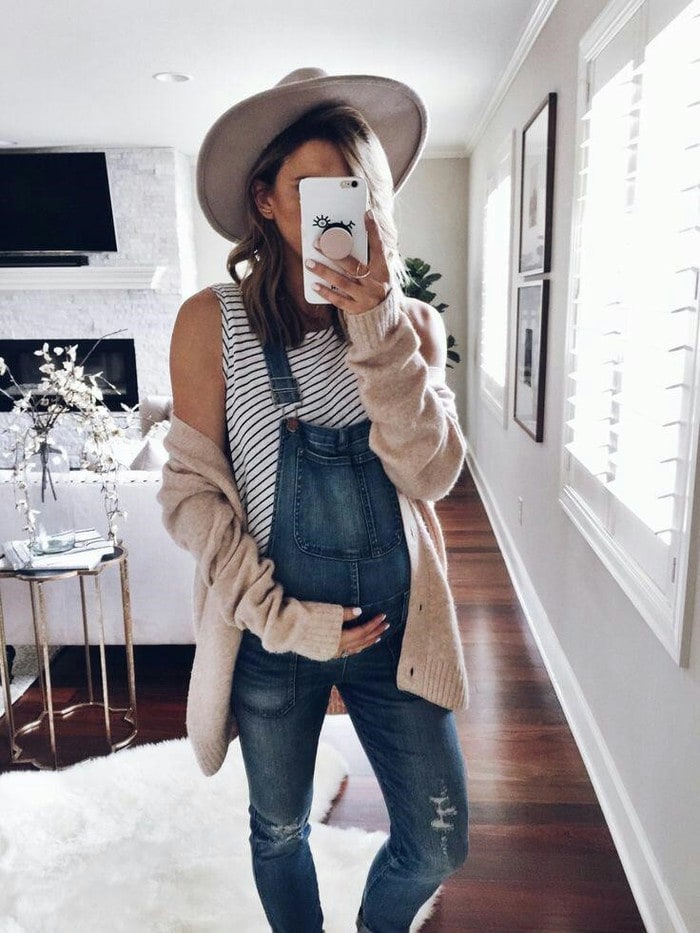 Fourthly: Blouses
You don't have to wear a cardigan or a blazer over around the belly baggy blouses. However, you have to make sure that they fit you around the hand and the breast area to avoid adding you fake weight as we mentioned earlier. And here are some of these blouses that are perfect for pregnant women: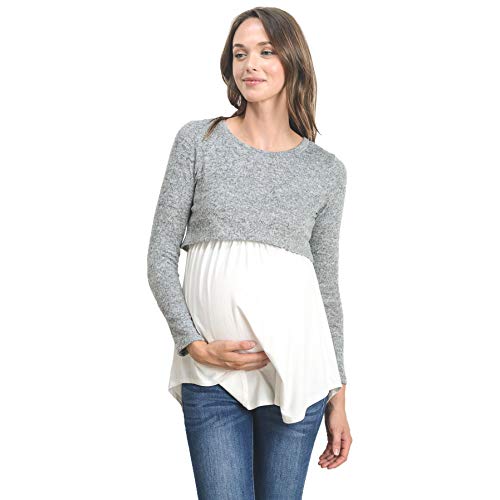 Other Tips for fashion for pregnancy:
You can also renovate your style by changing cardigans or blazers with scarfs either colorful scarfs or solid. They can be used in many ways especially with pants: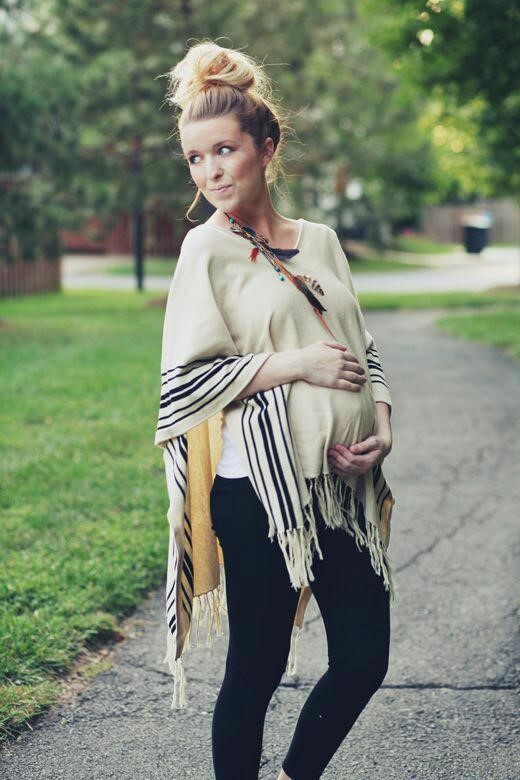 Pregnant women should care about accessories that she wears, as wearing stylish jewels, watches, bags and shoes would make any piece of cloth more beautiful and elegant.
Belts are considered very important piece of accessory that gives pregnant women a better look, as they make outfits look more fashionable, and could be worn over the belly.

Pregnant women can wear either leather belts or fabric ones according to what suits their outfits:(Don't miss our article Put on your belt in twenty different ways)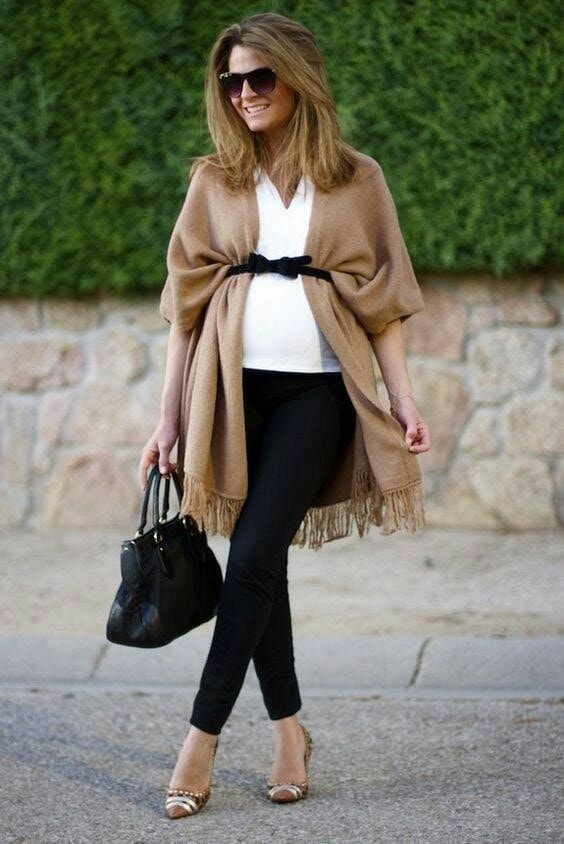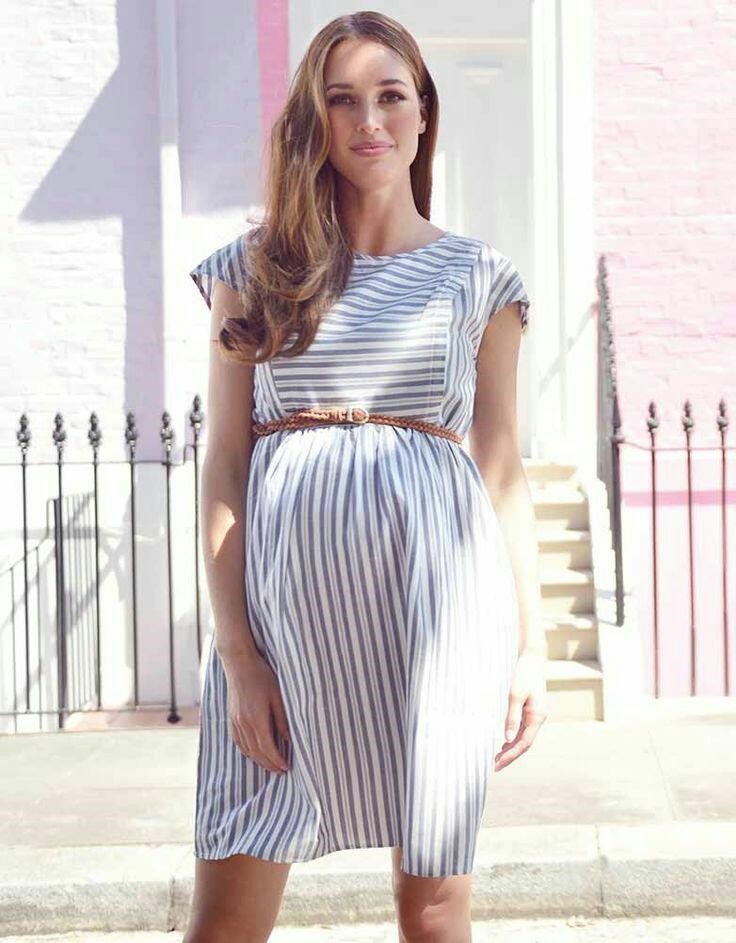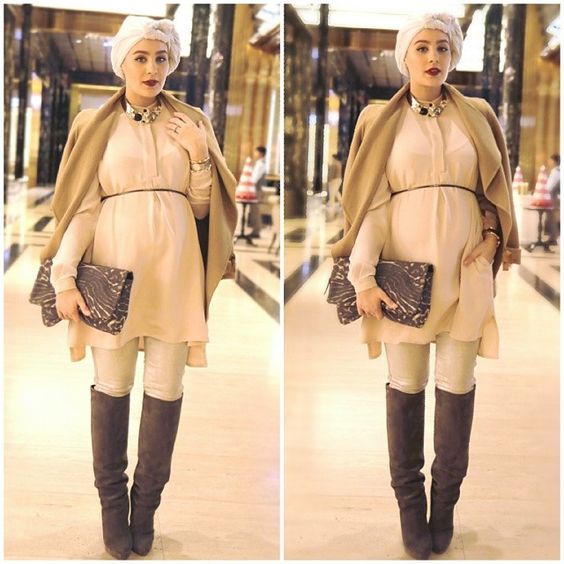 Show Me All Style Lessons